Automatic self-cleaning filters have been developed to displace media tank filtration.
Overview
Let's take a typical case where the flow rate through the system is about 500 cubic meters/hour (2200 gallons/minute)
Typically, for this scenario one would use 10 x 48" sand media filters (picture here) or 3 x 8" automatic self-cleaning filters.
The benefits of automatic self-cleaning filtration are: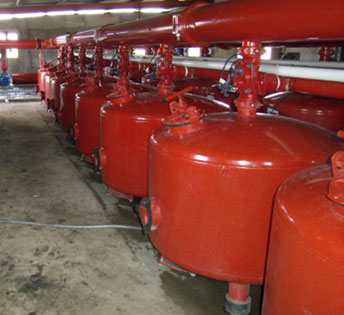 1

Flushing rate

A. Each media tank flushes, during the cleaning cycle for 3 minutes at 50 cubic meters/hour (200 gallons/minute). So for 10 tanks the flush rate (wasted water) is 150 cubic meters (600 gallons) x 10=1500 cubic meters (2000 gallons)

B. Each self cleaning filters flushes, during the cleaning cycle, for 10 seconds, each at 12 cubic meters/hour (50 gallons/minute) for a total of 30 seconds or about 5 cubic meters (24 gallons)

C. During the flush cycle, when the media tanks are cleaning themselves they are "off-line" and not providing water to the field. During the flush cycle of the self-cleaning screen filters, at no time, is water diverted from the field
2

Degree of filtration

A. During the life of the media filter, while the sand that serves as its medium is of a very high quality and high degree of filtration when new, it quickly degrades and loses its effectiveness as a filter medium over time.

B.The self-cleaning screen filter never loses its quality of filter degree as the porosity of the screen element is static
3

Cost:

The cost of three 8" self-cleaning screen filters relative to 10 x 48" media tanks is approximately the same. However the cost of installation, energy, pad required for installation, maintenance and operating costs, make the self-cleaning screen filters much more cost-effective.